The Internet of Things (IoT) can't function without software, including middleware, known as an IoT or IoT cloud platform. As a form of middleware, an IoT platform, sits between the layers of IoT devices and IoT gateways (and thus data) on one hand and applications, which it enables to build, on the other (hence why IoT platforms are also called Application Enablement Platforms or AEPs).
The reality is a bit more complex as we'll see after an overview of the essential capabilities of all IoT platforms and what you, as a potential buyer, should know about IoT platform market evolutions and selection criteria to pick the IoT platform that fits your needs.
Let's already say the IoT platform has become an important part of IoT and Industrial IoT (IIoT) deployments and that there are several types and vendors with their own focus and go-to-market strategies.
An IoT platform enables IoT device and endpoint management, connectivity and network management, data management, processing and analysis, application development, security, access control, monitoring, event processing and interfacing/integration
Moreover, the reality and market of IoT platforms is complex as IoT projects, applications and solutions come with different architectures, ways of connecting and managing devices (IoT device management), possibilities to manage and analyze data, capabilities to build applications and options to leverage IoT in a meaningful way for any given IoT use case in any given context: consumer applications, enterprise IoT applications and Industrial IoT or Industry 4.0.
As, in the end, IoT is part of an integrated approach to leverage data from devices, assets and environmental/contextual parameters, in combination with other data, in a meaningful and valuable way, more technologies are added in the scope of IoT deployments, depending on the use cases and industries.
This, in turn, has an impact on the strategy, capabilities and strategies of IoT platform vendors and thus plays a role in the selection of an IoT platform, the core topic of this IoT platform overview and guide for professional IoT platforms and buyers (we don't look at consumer and DIY hobbyist platforms as this is not our focus).
Some examples to illustrate this importance of additional technologies and of specific IoT technologies in the evolution of IoT projects and, as a consequence, in the fragmented IoT platform market.
Artificial intelligence and machine learning are often important for advanced data analysis. The analysis, processing and transmission of some types of data can be critical and/or happen in a context where speed and fast actions need analytics and intelligence at the so-called edge (where the devices/assets and specific gateways are): this is what edge computing and fog computing partially are about and where edge platforms come in.
Another example: in smart cities there are often use cases where open source platforms are preferred and low-power wide-area networks or communication approaches are needed (LPWA). This impacts the smart city platform market. Finally, in manufacturing some companies might work with digital twins to name one. And that, indeed, has an impact on Industrial IoT platforms and manufacturing platforms.
Enterprises should evaluate AEPs based on requirements in four areas: a focus on the developer persona; having a flexible and scalable deployment model; operational sophistication; and a well-executed partnership strategy and platform ecosystem (Dima Tokar, Co-Founder and Head Analyst, MachNation)
These examples also show the various levels on which IoT platforms are important and thus those key/features and capabilities, making it more tangible.
All the different terms for various IoT platforms we used so far (and there are more) in the end are platforms that all more or less have that same essential role and set of capabilities. So, let's start with an introduction to IoT platforms, their role and key features, before embarking on a selection criteria journey. If you want more information about a specific IoT platform type, market data or any other IoT platform topic, please use the table of contents above.
What is an IoT platform and how does it help in IoT projects?
There are ample IoT platform definitions which all point to differently named but similar capabilities and reasons why IoT platforms are important. The variety of types of IoT platforms, as well as their backgrounds/origins and how they work together in ecosystems matter so let's first add a few more first.
IoT platforms: many flavors, similar capabilities, different strengths and diverse partner models
On top of the mentioned types of IoT platforms there are large generic IoT cloud platforms from vendors such as Microsoft, Google, Amazon, IBM and more.
Another category of IoT platforms are the so-called IoT network provider platforms with vendors such as AT&T, Orange Business Services, Telefónica, Verizon, and Vodafone. And then there are IoT business platforms which are often built for vertical applications and markets such as building management, specific smart industry areas, utilities and energy, oil and gas, logistics and transportation, the overall resources industry etc. and so forth.
As mentioned, all these IoT platforms have common types of capabilities, with one IoT platform performing better in one area than another. It's one of the reasons why the IoT platform market, which is still relatively young and evolving, is one of strategic partnerships, platforms of platforms and mergers and acquisitions.
As you can see from the few names of vendors mentioned so far, the reason why the market is so diverse is related with the origins and background of the platform which in turn says something about their strengths. It's clear that a platform from a network operator typically will be stronger in the communications and network capacity area while platforms which were designed for application enablement offer stronger capabilities on that level, platforms from device manufacturers are stronger in device management and so forth.
Again, this drives market, go-to-market and ecosystem/partnership and M&A evolutions and these are important to consider when selecting an IoT platform as we'll see.
IoT platform definitions and essential capabilities/benefits
Time for those essential capabilities, some definitions and how an IoT platform (or more in a platform of platforms approach) can help your business projects in the broader IoT deployment context.
IoT platforms enable to realize IoT projects and build IoT solutions faster, cheaper and better. Their essential features/capabilities are on the level of connectivity and network management, device management, data acquisition, processing analysis and visualization, application enablement, integration and storage.
With more IoT devices/assets, data, related technologies, network/connectivity solutions, architectural and infrastructural evolutions and stronger requirements to connect and leverage it all in a purpose-driven, efficient, interoperable and secure way, IoT platforms have become a backbone of professional IoT deployments.
In the previous mentioned article on IoT network connectivity provider platforms we mentioned an IDC assessment of IoT device management and IoT network connectivity platforms. It contains an IoT platform definition from the research company which goes as follows: "a commercial software product that offers some combination of the following capabilities: management of IoT endpoints and connectivity; access, ingestion, and processing of IoT data; visualization and analysis of IoT data; and IoT application development and integration tools".
As explained in an article on the role of IoT platforms, in the strict sense an IoT platform is an IoT Application Enablement Platform or AEP.
In the community of developers and early-day (DIY) IoT adopters with a technology background you might still often see that mainly the device connectivity/management, data management (related with it of course), M2M communication (connecting devices and transmitting the data via wireless connectivity such as the cellular options to a device cloud) and the device cloud aspect itself are overemphasized.
This is due to the mentioned historical reasons but also because often these are IoT platforms for hobbyists and in pure consumer solution applications, which is not the scope of our overview and in today's platform landscape is far too limited and simplified. Although device management, data, communications and cloud of course are key, application enablement, edge capabilities, vertical capabilities/support, advanced security and analysis/visualization are simply key in IoT platforms and the communication level is a very heterogeneous one.
IoT platforms have their roots in, among others; the need to manage, monitor, store, translate, secure and analyze IoT data; the enablement of applications; IoT device management; the bridging of gaps as a result of the lack of standards and interoperability in IoT; connectivity and integration; security, firmware updates and subscriber and access management; visualization and interfacing with applications, users and developers.
Selecting an IoT platform: business-related and functional criteria
Time for some selection criteria. As mentioned in an article on the MachNation 2018 IoT AEP ScoreCard, the MachNation MIT-E test lab for IoT platforms looks at several IoT platform test categories from the perspective of performance and overall evaluation.
Performance of course is key when selecting an IoT platform. The categories which MachNation uses for its test and rankings are divided into several subcategories where performance is gauged.
They represent IoT platform performance and evaluation criteria which serve as IoT platform selection criteria. The different criteria, which at the same time show the definition of an IoT platform according to the company (based upon the essential capabilities, whereby as said application enablement is key) are shown across the device, edge and cloud level of the company's IoT platform infrastructure. Yet, of course there is more than performance, there are also business criteria.
Among those many criteria in selecting the best IoT platform for your business ask following questions:
What is the track record of the IoT (business) platform vendor? Has the vendor been adapting to evolving market and technology realities? What projects has the platform been deployed for and what were the results? What is the roadmap of the vendor and does that roadmap fit with yours? Does it look as if it will still be around tomorrow? Industry recognition? Consortia?
How does the ecosystem of alliances, channel partners and overall ecosystems of the vendor look like? Is it part of stable ecosystems and/or does it have good ecosystems itself? Does its go-to-market approach (you will need channel partners, niche experts, system integrators and so on) include the use cases you have in mind? Does it have a vertical approach or a vertical ecosystem for your specific type of business/industry?
How user-friendly and effective is the IoT platform in performing/enabling essential tasks? How long does it take to onboard new IoT devices? Is it rather 'zero touch' or does onboarding take too much time? Does it work with a third-party zero touch (and secure) device onboarding/provision/management systems? What about the time it takes users to perform other tasks? How user-friendly are interfaces and functions, whether it concerns communication protocols, visualization, decision-making, the various applications in a scope of use cases it supports?
Is it an open, interoperable and developer-friendly platform? What cloud platforms are used? What programming languages? How easy is application enablement? Are there pre-packaged data and application features? How well does it connect with the business applications and other IoT applications you need and want? Does it support the proper standards, devices, communication technologies, etc.?
How scalable is the platform? Again: you don't just select an IoT platform for the right here and now. By the time your IoT deployment is finished there will probably be new opportunities, possibilities and innovations, requiring your IoT platform to support far more IoT devices than in an initial project. This has implications on many levels including the mentioned onboarding, security, bandwidth, latency, performance and perhaps even more protocols and most likely interoperability with additional solutions and providers of services.
What about security? Although we'll look at security in a scope of edge capabilities below we of course need to mention it among the many IoT platform selection criteria overall. And it's more than a matter of authentication, certification and encryption or about just a few parts of the overall IoT stack such as IoT devices or communication protocols and networks. While edge capabilities typically are seen as adding to security for several reasons, IoT projects and deployments need security by design in an end-to-end way (and with legislation such as the General Data Protection Regulation and ePrivacy Regulation making waves across the globe right now soon also privacy by design in affected use cases involving personal data and identifiers). Security plays on all levels of the IoT stack so certainly also in selecting the best IoT platform for your needs, use cases and roadmap.
This list of IoT platform selection criteria is far from complete. There is also the pricing model (and the hidden costs you might encounter, in specific types of platforms such as those of mobile network operators, costs for instance can also include the data plan costs for mobile connectivity). And when you start looking at each of the different levels of functionality you can go further. In an article on selecting the best edge platform for your needs we dive deeper into some critical edge capabilities. In the previously mentioned article on IoT device lifecycle management we dive deeper into that aspect and so on.
The IoT platform market: opportunities, challenges, winners and dynamics
Before wrapping up we look at the IoT platform market. There are hundreds of players in this space now, some of them admittedly rather self-proclaimed IoT platform vendors.

IoT platforms represent €15 billion of the €250 billion that will be spent on IoT in 2020 — but platforms play a pivotal role in a much larger strategy (Akash Bhatia, Boston Consulting Group)
As said, although the real IoT platforms have many functions in common (the core IoT platform features) but there are quite some differences in the various offerings with sometimes very different features. No IoT platform is the same. However, the term IoT platform is also used for many types of platforms. And remember the market dynamics.
Some more examples of companies and solutions which are probably better known (the vendors at least), although this isn't some judgement on quality of the many others out there: Amazon (AWS IoT), AT&T (AT&T IoT Platform), Bosch (Bosch IoT Suite), Ericsson (Application Platform for IoT), Gemalto (SensorLogic), HPE (HPE Universal IoT Platform), IBM (Watson IoT Platform), Microsoft (Azure: Stream Analytics, IoT Hub, IoT Suite), PTC (ThingWorx Technology Platform), SAP (SAP HANA Cloud Platform for the Internet of Things), relayr and Software AG (Cumulocity IoT).
The IoT platform market challenges
As said, one of the major issues with IoT platforms is that there simple are far too many and that the young market is still taking shape with the mentioned mergers and acquisitions, essential ecosystem partnerships (strengthening offers for the customer who wants an end-to-end solution, not the pain of acquiring or building a tool) and undoubtedly some players poised to either go very vertical or get out sooner or later.
It's a bit the old dot com era mantra: get big, get niche or get out. And getting big can happen in several ways: big partnerships, big investors and, the best of all, big benefits for customers on whatever level (vendors need to be extremely customer-centric, creative and focused on the business rather than the hype).
In recent years the number of new entrants has continued to increase in a staggering way. In the Summer of 2017 IoT Analytics, which keeps track of the market with a database, announced there were 450 IoT platform vendors, or at least vendors saying they have an IoT platform. By way of comparison: in 2015 the company counted 260 IoT platforms and in 2016 its database contained 360 IoT platforms.
The market for IoT Platforms continues to get more crowded and fragmented. However, the dynamics are shifting: While we continue to witness a constant stream of new startups entering this space, most of the larger vendors seem to have made their bets by now – organic new entrants by multinationals are becoming rare (IoT Analytics MD Knud Lasse Lueth)
From an IoT platform type, IoT Analytics structures its list around the follow parameters:
Application enablement
Device management
Analytics
Cloud storage
Connectivity backend
This is more or less in line with the way IDC defines an IoT platform and how MachNation looks at it, a combination of interoperable and ideally modular and open capabilities
Or as IDC describes in its Worldwide IoT Software Platform Taxonomy 2017: "While IoT Software Platform architecture varies greatly from vendor to vendor, at a basic level these products connect devices, collect and manage vast amounts of data, and expose new insights to enterprises' back-end systems or to third parties".
IoT platform growth and spending
MachNation is one of many who studies the IoT platform market with its annual ScoreCards. According to MachNation, total IoT platform revenue will reach USD3.3 billion in 2018, a growth of 89 percent in comparison with 2017.
Using an application enablement platform, MachNation says, among others, leads to a faster time to market; ensures a high-quality, reliable, secure offering; and enables enterprises to build competitive advantage in their markets the company says. IoT application enablement platforms reduce development time and costs.
In a previous edition of the report MachNation expected IoT platform revenue to reach USD2.0 billion in 2017. That was a whopping increase of 116 percent in comparison with 2016. In that edition MachNation also expected global IoT application enablement and device management revenue to reach $83.4 billion by 2025.
Looking at the chart below from its 2018 update it seems that growth on the longer term is somewhat slower than previously expected, which is in line with revised IoT 2018 spending forecasts by IDC. Nevertheless, it clearly shows an acceleration through 2025 as organizations increase their investments in IoT deployments.
IoT platform vendor and solution dynamics
There is one thing everyone agrees on: the market is fragmented, complex, far too crowded and confusing as ever more players want a piece of the pie and, except for the established players who are clearly formulating their strategies and roadmaps in ecosystems of collaboration and partnerships, it's hard for buyers.
The confusion, along with the fact that, broadly speaking (with the mentioned exceptions such as maturing generic IoT platform providers and clear leaders with mature strategies and offerings across several verticals), the IoT platform market is still relatively immature and too crowded, is most probably one of the reasons why it's growing somewhat slower. Moreover, more vendors means more competition and thus more players going after companies deploying IoT projects.
This doesn't of course mean that new players have no place and the race is over, well on the contrary. Several new vendors have a fresh and different approach, often within a specific vertical or several areas in the above mentioned lists of parameters and capabilities where IoT deployments need capacities that only emerged in recent years and become more important now.
IIoT platform providers need to deepen and broaden the capabilities of their platforms to support and integrate emerging transformative technologies such as augmented reality and artificial intelligence (ABI Research, Smart Manufacturing Platform Assessment report PR)
Typical examples include the mentioned movement to edge intelligence, increasing importance of AI and machine learning (depending on use cases and industries) to unlock full value of IoT data and enable the types of applications you would find more in specific markets and so forth.
Obviously it's not just new vendors who are specializing in a niche and/or specific use cases and/or support of more technologies and applications. Established vendors have taken important steps in that same direction. Many of them clearly are focusing on the use cases, preferences and needs of buyers on various levels, whereby integration is a key one.
To dive deeper into those evolutions it's important to distinguish between the various IoT platforms from an industry focus. As the mentioned IoT Analytics update confirms the largest chunk of IoT platforms is focusing on manufacturing and industrial, followed by smart cities.
On a more generic level, MachNation points out that rather than building their own platforms, enterprises are choosing to purchase cloud-based offerings from best-in-class IoT AEP vendors.
In a previous edition of its IoT Application Enablement Platform (AEP) ScoreCard the company found that service providers and enterprises become more interested in open-source IoT AEP technologies.
While from an overall IoT platform market perspective there is already quite some consolidation going on and some players have left the market (according to the mentioned IoT Analytics update, more than 30 of the companies included in the 2016 edition of the list have ceased to exist, meaning either out of business, been acquired or listed separately in the database), expectations are that a lot of players will follow and be forced out of the market.
This is, among others, because the leaders indeed continue to mature and look at filling potential gaps in their offering (acquisitions), because there simply isn't enough space (even if an integrated multi-cloud and multiple platform approach for various use cases is a growing market reality) and, overall, because of evolving and maturing roadmaps of leaders and innovators with strong industry backing and partner ecosystems on the level of technologies, go-to-market strategy and those partnerships, support of increasingly important applications in several verticals, important shifts on technological/architectural levels and a customer-centric approach around the goals and value which buyers seek to realize – fast – are on top of the list of leading providers.
Or, as Gartner puts it in the summary of its Competitive Landscape of IoT Platform Vendors (May 2017): "Despite its immaturity, the IoT platform market is extremely competitive, with hundreds of companies offering solutions. To succeed, technology product marketing leaders need to sharpen their IoT go-to-market strategy and evangelize and educate the market on the art of the possible".
Moreover, IoT platforms fit in a broader strategy of vendors. In an article on LinkedIn Akash Bhatia, partner at The Boston Consulting Group points out that the real money isn't in the IoT platforms. He emphasizes that IoT platforms represent €15 billion of the €250 billion that will be spent on IoT in 2020 and play a role in a bigger strategy to gain market share in the rapidly growing top layers of the IoT stack: IoT applications and analytics.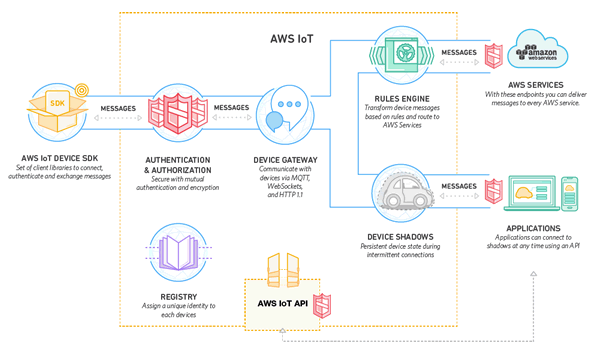 A few words on IoT application enablement platforms
According to IoT Analytics 92 percent of IoT platforms have a core focus on application enablement, which also takes center stage in the forecasts and approach of MachNation.
MachNation distinguishes between two types of IoT application enablement solutions and vendors.
IoT Application Enablement Platform (AEP)
AEP vendors (we quote) have a technology-centric offering with the goal to deliver a best-of-breed, industry-agnostic, extensive middleware core for building a set of interconnected or independent IoT solutions for customers, MachNation says. AEP vendors rely on a flexible deployment model; a comprehensive set of device and enterprise backend connector SDKs and APIs; and a set of well-documented developer resources.
Platform-Enabled Solution (PES)
A PES is not technology-centric but solution-centric. It is optimized to reduce the time to deliver a fully-enabled, end-to-end, vertical IoT solution to customers, MachNation writes.
The IoT Software Platform market has evolved significantly over the past few years but is still a complex and fragmented space. IDC believes it is important to define common IoT platform architectures to properly segment and size this crowded market (Stacy Crook, IDC)
At the occasion of its 2018 manufacturing IIoT platform report, ABI Research also focused on AEPs and dove deeper into application enablement platform approaches. Quote: "AEPs provide a solution for importing data, but they often require partners to provide gateways. Some AEPs provide a 'one-stop-shop' that can take the data from a least some devices and might also work like an operating system with an app store. If they keep app development open, they can feature apps built by the AEP provider, apps from partners (which may also call themselves a platform), end users or independent developers, much like smart phone app stores. Some 'one-stop-shops' focus more on the extraction of data and getting it to the cloud, while others focus more on delivering the data to enterprise systems or the operating system. Other IIoT platforms specialize in a specific piece of application enablement or microservice such as fog computing or processing raw sensor data".
Top image: Shutterstock – Copyright: TippaPatt – All other images are the property of their respective mentioned owners