Better data strategies might have saved the global construction industry $1.85 trillion (€1.58) in 2020, with less safety incidents, change orders, project delays, budget overruns, and work to redo.
A 2021 Autodesk and FMI Corporation report takes a deeper dive in the matter. An overview of the why and how of a formal (project) data strategy for companies in the construction industry.
Over the past three years, new construction project data has doubled industry-wide.
The construction industry – and AEC industry overall – is rapidly digitizing and digitalizing. Increasing digital transformation efforts among all actors involved in built environment projects result in a sharp increase in data volumes.
The Internet of Things and growing deployment of smart sensors play an essential role in this regard. Furthermore, there is an increase in advanced technologies such as augmented reality (AR), digital twins, smart building technologies, BIM (building information modeling) tools, and more. As in other sectors, digitization projects aimed at reducing the use of paper and manual, time-consuming processes also remain crucial. And ever more data gets captured in the field.
These – and other – evolutions have inevitably contributed to the growth of the 'datasphere' in the construction industry in recent years.
The data challenges and opportunities for construction companies
With more data, various opportunities arise beyond the direct functions and goals for which the data is gathered.
One of the main benefits of a data-intensive Construction 4.0 approach – as the transformation of the construction industry is sometimes called in analogy with Industry 4.0 – is the possibility to create new opportunities thanks to data-driven insights.
Companies with a data strategy say the biggest benefits are fewer safety incidents, a reduction in change orders, fewer missed schedules and less rework (Mike Pettinella, EMEA Director, Autodesk Construction Solutions)
Ecosystems and data exchange/collaboration models also increase efficiency and enable innovation throughout the construction industry value chain and built asset life cycle. Last but not least, data-driven insights allow the identification of risks and potential problems.
However, in a world of big data – in the sense of more data and proliferating data sources – several problems emerge. It isn't any different in the construction industry.
The construction sector faces several data management challenges. For example, 1) quite a lot of data is not usable, 2) a large number of companies don't use data in decision-making processes, and 3) a data strategy is often missing.
A comprehensive study by Autodesk and management consulting firm FMI Corporation identified these three data management challenges among several others. More than 3,900 professionals in the global construction industry were surveyed on their data practices.
Implementation of formal data strategies is linked to positive project outcomes, cost savings and competitive advantages.
The costs of "bad data" and missed construction project data opportunities
The results of the survey, released on September 14, 2021, show the missed opportunities. Autodesk and FMI Corporation estimate that "bad data" – data that is inaccurate, incomplete, inaccessible, inconsistent, or untimely (and thus not enabling actionable insights) – may have cost the global construction industry a whopping $1.85 trillion (€1.58) trillion in 2020.
Different versions of the report have been released, enabling a global and a more regional view. Moreover, there are also comments on and comparisons between various neighboring countries (e.g., the Benelux and the Nordics in Europe) within the regional ones.
On top of looking at the state of data practices in the sector through the survey, the report, entitled "Harnessing the Data Advantage in Construction," provides ways to do better and identifies where and how progress can be made with comments from a few industry players.
In today's construction landscape, working fast is a competitive advantage. Whether you're coordinating with stakeholders, generating designs, or managing a jobsite, the speed at which you make decisions can make or break your projects. (Eric Thomas, Manager, Construction Thought Leadership at Autodesk + Host of Autodesk's Digital Builder Podcast)
The general conclusion is that construction companies can get more out of the investments they make in technologies. Without sound data strategies, they miss the chance to avoid direct and indirect costs, leave money on the table, and leave many opportunities unused.
Data management plays a role in all these aspects, and construction companies can improve their data practices. But in some countries, there is clearly a different culture, which makes it more difficult since an organization isn't an island. It is not always easy within the context of ecosystems and projects with many stakeholders – and thus project data – either. Yet everyone can successfully collect, manage and use data to support decision-making activities.
The nature and causes of bad project data
As mentioned, one of the main problems is that of "bad data." Bad data does not allow decisions and improvements to be made and problems to be avoided for various possible reasons.
Data may have been collected with the right intention, but errors could be made, leading to inaccurate/incorrect data (and thus output, remember the concept of GIGO). Specific data in the context of a project may also simply be missing. And one may have gathered the wrong data to achieve a particular goal. The report provides some concrete examples of each of these "bad data" scenarios.
As the construction industry continues its rapid digitization, it's important to remember that the utility of technology extends beyond its immediate functions to identifying risks and opportunities with data-driven insights (Allison Scott, director of construction thought leadership, Autodesk Construction Solutions)
The precise nature and causes of "bad" project data vary. Inaccurate/incorrect data (24 percent of respondents), missing data (also 24 percent), and wrong data (21 percent), however, are the most common contributors to bad project data.
The fact is that these "bad data" alone lead to many costs. Thirty percent of respondents say that more than half of their project data is bad and leads to poor decision-making in 50 percent of cases.
Decisions based on bad data would have cost the industry $88.69 billion in rework alone. That's 14 percent of all rework done in 2020.
The report looks at other contributors to bad project data and the difficulties encountered in working with project data. Some are related to data source proliferation and combination difficulties (standards and silos); others are due to an unwillingness to share. For some, there is simply too much data to know how to use it efficiently.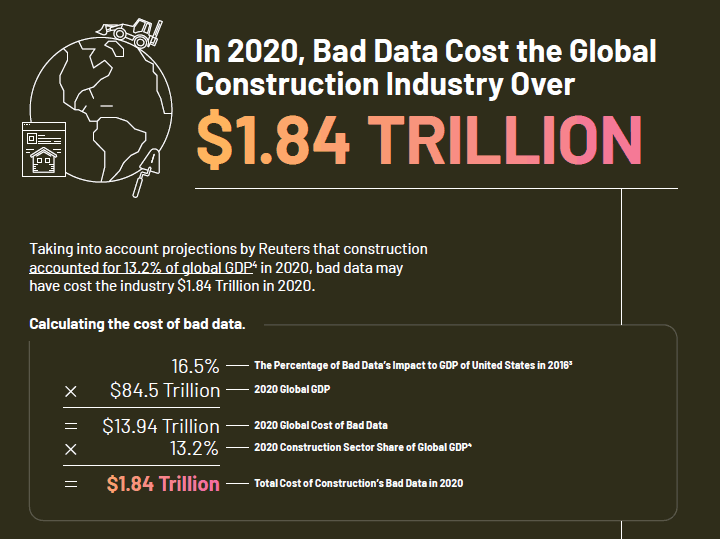 Construction project data volumes doubled in the past three years
The latter challenge certainly isn't going to become easier as data volumes continue to increase. Autodesk and FMI point out that the volume of available project data has doubled in the last three years.
The industry is collecting more and more data, although we also see differences by country and region.
Success with data isn't only about the digital tools; construction companies need the right company culture – and people who are comfortable and confident with technology (Mike Pettinella, EMEA Director, Autodesk Construction Solutions)
Eleven percent of those surveyed saw an increase of over 75 percent in the volume of data they create through the construction technology they employ. For 36 percent, the increase was more than 50 but less than 75 percent, and 30 percent noted an increase of 25 to 50 percent. Project data includes, among others, model data, photographs, text files, sensor data, and satellite imagery.
Yet, quantity is not the only thing that matters in data as we know. Quality comes first, especially to avoid working with inaccurate data and thus making bad decisions. It's one of many reasons why a gradual data strategy approach, starting with the essence and foundations of future success is often best.
What construction companies can do
So, what should construction businesses do? The report provides several answers. Here are a few recommendations from the press release of the "Harnessing the Data Advantage in Construction report – and some additional ones.
Inconsistent data entry is the largest cause of bad data. The main reason behind the lack of data-driven decision making is the urgency required when making a decision.
Define a data strategy enabling construction teams and organizations to dispose of "relevant, accurate and complete data sets to make consistently high-quality data-driven decisions." Go for intentional data strategies supporting consistent data-driven decision-making and, as said, go for a gradual approach identifying what matters most first. A data strategy and digital business strategy go hand in hand.
Follow the data practices of construction companies that always include project data into their decision-making (twelve percent of respondents): regular data quality reviews (forty percent of respondents); standardizing data collection, reporting and monitoring practices (38 percent); and structuring data in a common data environment, a.k.a. CDE, for centralized access (38 percent).
Make sure your teams have the proper data management and analysis skills. That's often a tough one. For sixty percent of respondents, the presence of such skills is essential to work efficiently. We could add that advocating a data culture in the organization and its ecosystem of partners is also vital in this regard. As said, in some countries, there is clearly much work in this context. In other countries, we see strong industry initiatives whereby building information modeling plays an essential transformational role. Advocating doesn't equal preaching. As per usual, the proof of the pudding is in the eating, again a reason to work gradually.
Empower the people who need to make decisions in the field, often based on real-time data. In practice, this, among others, means a focus on mobile, cloud, and user-friendly applications, on top of a good data strategy and accurate data. Since many years there are also ample solutions for smartphones enabling data capture.
Make the case (remember the pudding), overlook no one, get executive buy-in for a formal data strategy and potentially missing tools and get the team on board with training, and most of all, a down-to-earth approach. In the end, you don't want to sell data strategies but simply ways to make life easier for teams, partners, and customers with a clear impact on all aspects of the business and an appetite for a more data-driven culture.
Articulating why changes are happening, encouraging open discussion and providing continual reinforcement will help to achieve buy-in over time. (Mike Pettinella, EMEA Director, Autodesk Construction Solutions)
In a follow-up article, we'll zoom in on some findings regarding differences in the construction industry's data management practices, attitudes, and challenges by country/region with results shared by Autodesk and FMI in various – global and local – press releases.
Key takeaways in a – visual – nutshell
In the meantime, you can check everything out yourself for all regions and countries via the different links below and the report infographic.
Next in construction: "Digital transformation in the AEC (construction) industry"
Top image purchased under license, copyright Adobe Stock, infographics property and courtesy of Autodesk and for illustration purposes only (full images available via the attached links).