A VIP judging panel of IoT experts has been announced for the 4th annual IoT Global Awards by WeKnow Media Ltd, the award organizers.
This independent panel of experts from Tier 1 companies and industry bodies worldwide bring their expertise, enthusiasm, and enterprising minds to assessing a growing number of entries every year.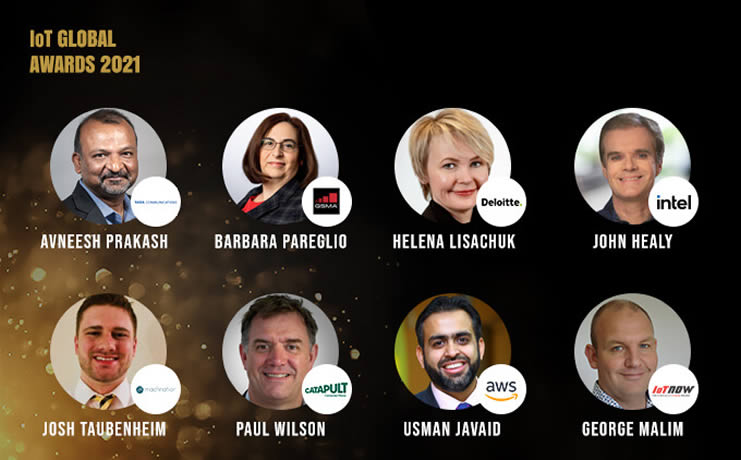 The chairman and co-founder of the IoT Global Awards 2021, Jeremy Cowan says, "Our VIP Awards Panel has always been a key indicator that the IoT Global Awards, now in their 4th year, are different from other awards schemes. Here there is no 'pay-to-win' – the Award Winners are simply chosen by 8 independent Judges with stellar reputations in the IoT industry. And this year is no different.
"The award organizers are excited to reveal a few new faces to the 2021 judging panel and are honored to welcome back judges from the previous two years," he says.
"Some of our judges are returning for a second year because they enjoy, as we do, discovering IoT Technical Excellence globally and Creative Business Thinking throughout the Internet of Things. We welcome three new Judges to the Panel. They all have one thing in common with our previous Panels, they bring vast IoT expertise to the task of choosing the Winners in 2021. Bluntly, we couldn't do it without our VIP Judges and we are honored to be working with them," reveals Cowan.
New IoT Global Awards Judges in 2021:
Avneesh Prakash, VP Mobility and MOVE at Tata Communications, Delhi, India
John Healy, VP GM IoT Platform Management and Customer Engineering at Intel Corporation, Arizona, USA
Josh Taubenheim, IoT Solution Developer and Analyst at MachNation, North Carolina, USA.
The organizers are proud to welcome back these judges:
Barbara Pareglio, executive director for Connectivity for Aviation and Drones at GSMA, UK
George Malim, managing editor, IoT Now & VanillaPlus magazines, Bath, UK
Helena Lisachuk, Management Consulting at Deloitte IoT global lead, Amsterdam, The Netherlands
Paul Wilson, chief business officer, Connected Places Catapult, Bristol, UK
Usman Javaid, PhD, GM Professional Services Delivery at Amazon Web Services (AWS), London, UK.
Entries for the IoT Global Awards 2021
The IoT Global Awards are still open for entries.
There are 11 industry categories to enter which encompass every sector touched by the Internet of Things (see below). The awards kick off with an Early Bird Special Entry Price of £139 per category. There is no limit to how many categories you can enter.
The all-important deadline to remember is the closing date for entries is midnight (UK) on Monday, 18th October 2021.
Winners will be announced live on the IoT Global Awards website on the 22nd of November 2021.
The awards programme is a global event, open to organizations of any size from anywhere in the world.
To enter and for all further information go to https://iotglobalawards.com